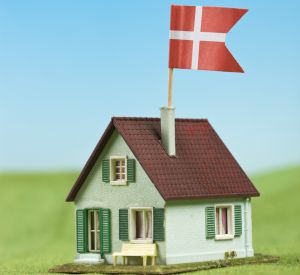 In this modern era of 21st century life is full of tensions and stress. Everyone seems to be running in a mad rat race that probably has no end to it. People are earning millions but are still not contented and in fact, unhappy. Does it seem to be your own story too? Well you no longer need to worry and be unhappy because I know a place where everyone is happy and contented with no corruption or income inequality. If you are thinking that I might be joking then you are wrong because today I am talking about one of the happiest and incredible countries in the world named 'Denmark', fondly known as the Kingdom of Denmark.
Well you all must be wondering on what basis I am calling Denmark the happiest of all countries. Denmark has been ranked as the happiest country in the world several times as per various surveys. Apart from being the happiest nation, Denmark is also privileged to have the highest percentage of happiest employees in the world. Denmark also ranks number one in per capita income, income equality, and social mobility and ranks highly positive on Corruption indexes. Thus all these wonderful reasons make Denmark a perfect place for all to move here.
So if you planning to move to Denmark then this article is definitely for you and if you are not, then I am sure that after reading this you would surely plan to move to this amazingly beautiful country. First thing to know about Denmark is that it is a sovereign state ruled under constitutional monarchy and Queen Margrethe 2 is the head of the state. The climate is unpredictable and there are chances that it may surprise you often because there can be times when you'll experience sun, rain, heat and cold all in a single day. So prepare yourself for it with layers of different clothing as most of the Danes do. Denmark is an extremely eco-friendly country so you must contribute your bit when you become a part of it. Most Danes do it by getting themselves a bike. Yes, 50% of Copenhagen's population commute to work on their bikes, so take this mode of transport rather seriously.
Moving to a new nation means you need to interact with different people, so when you move to Denmark you must be well conversant with the local language i.e. Danish. And the best part about learning this language is that you can join various language courses in Denmark that are free of cost.  Getting a job in Denmark is also not a very difficult task. So after having knowledge of the people, language, weather and job, your next big question should be about your accommodation.
You can have an accommodation in two ways; firstly you can rent Apartments in Denmark or you can go on to buy a house in Denmark. Let's talk about the things you need to know about getting a rented apartment in Denmark. When you move to Denmark you can either contact a private landlord or a non-profit agency that will assist you in getting a rented apartment. Once you have finalized your apartment in Denmark, you need to enter into a rent contract with your landlord. However such contract is not compulsory but it is definitely desirable as it establishes the duties and obligations of both the tenant and landlord and being new in the country you are protected from facing any unpleasant surprises. The rent contract states the rent, period of lease and amount of deposit. As per the normal customary of Denmark, the tenant is asked to pay a deposit and three month's rent in advance. However in order to protect its new immigrants from high rents, the Denmark government even provides rent assistance to the tenants based on their financial abilities.
Now let us have a look at the laws governing the new citizens or immigrants regarding buying of a house in Denmark. If you are a European citizen, then you don't need to get Denmark's government permission before buying any property here. However if you are not a European, then you must seek permission from Denmark government before entering into any contract. The next step after obtaining permission would be to approach a reliable and capable real estate agent that is well versed with the state of Denmark and its properties. If you are not having sufficient funds to buy a house in Denmark, then you can also approach Denmark building societies that offer you loans to make your dream of buying a house come true. The amount of loan offered varies from person to person and is strictly as per one's paying capacity and income. Thus before applying for a loan in building society one must be in possession of a regular job with sufficient level of income. Before buying a house in Denmark you must have the knowledge of the value of your property, as in Denmark an individual is taxed on the basis of value of his/her house.
Another amazing feature of renting or buying an apartment in Denmark is that if you are short of funds or feel lonely at times, you can go in for co-housing. Co-housing is a concept invented in Denmark and a large number of Danes still live here like that. All you need to do is find the perfect people that are cooperative and friendly which won't really be a problem because most Danes are like that. And then you can get an accommodation that has a common kitchen and you all stay together like a big family sharing all common responsibilities. Co-housing means less cooking, cleaning and your children too are very well taken care of.  So don't hesitate to go in for co-housing as it is a wonderful concept aimed at solving your housing problems.
Last but not the least, I would like to say that moving to a new country is never an easy task and it may involve many difficulties but all you need to do is stay in contact with reliable people and agents that provide you with the best deals possible. Always keep your eyes open so that you don't get cheated. I am sure that you would never regret your decision of moving to Denmark because it is a beautiful place meant for beautiful people.